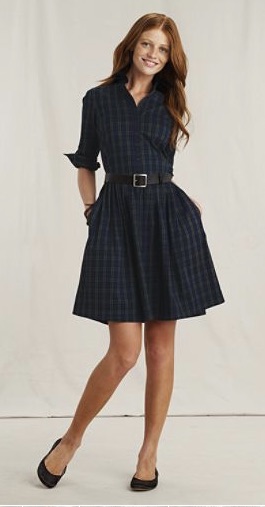 I am verrry tempted by this Lands' End Canvas plaid shirtdress. I've been looking for plaid fabric to make some shirtdresses, but I haven't seen anything I like that isn't an authentic tartan (at a kajillion dollars a yard). This dress is only $80 (and there are many, many LE promo codes for $15 or $20 off purchases of $75 or more).
Lands' End Canvas is LE's new younger line — basically, it's J.Crew-like styles, with LE-type sizing. (Win-win, in other words.) I've bought a cardigan sweater and a short-sleeved sweatshirt from LEC, and been happy with both — okay, I'm only happy with the sweatshirt on a philosophical level, because there's never been a short-sleeved sweatshirt in the history of of either sleeves or sweatshirts that's been flattering on anyone over an A-cup (can you say 'blocky fleece torso"?), but I'm wearing it now and it's very comfy on a rainy California day in front of the computer. 
Back to the dress. It's cute, it has pockets, and if I buy it, it will satisfy my current plaid hankering without requiring me to figure out which branch of my ancestry qualifies me to wear which design. Sounds like a plan to me — what do you think?