So at first I was thrilled to hear that Liberty and Apple were collaborating on a line of Liberty-print laptop cases and bags: two of my favorite things, together! My current laptop sleeve is nicely utilitarian, but is the world's most boring taupe-y gray. (I think it's the color androids paint their living rooms.)
And then I actually clicked through, to see: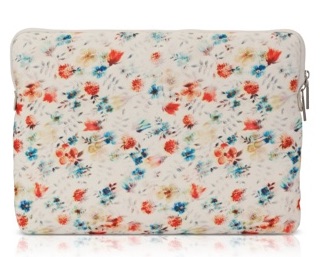 Meh, right? I mean, there are literally dozens of Liberty fabric designs currently available, and they picked one that shouts "Grandma's Nightgown"? They also do a leather Ianthe, but Ianthe is the Liberty version of Death By Chocolate—sure, it's nice and all, but it's not SURPRISING.
I mean, even Strawberry Thief would be cooler than this pattern (Edenham). C'mon: Apple, Liberty, I know you can do better than this. WWSJD?